Energy Architect

Rewiring your space for your success (Don't blame your Vastu consultant for not telling you about this!)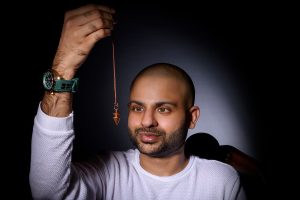 Have you wondered why some businesses have prospered in certain spaces? Or why some people's health started failing after a move? So many people seem to be doing well even though their services are not that great! Sometimes we don't need to look too far. The time has come to know the secret. This goes beyond the advice of your Vastu consultant or the principles of Vastu architecture. Aaron will see the energy of the space, and the individual residing or working in that space. You never thought of considering the energy-compliance of a space before buying it, right?
Shocked? Don't be. Our spaces (inhabit, work out of, rent, going to buy) have a large influence on the different and every dimension of our life. Be it health, money, marriage, relationships, success, thought process. If some energy in a space is not good for us, things will not go as desired. And interestingly, the energy of the space should match the energy of the owner. Just because a space was good for someone doesn't mean it's going to be good for you. (Remember that corner shop in Mumbai? Or New York. Except for the first brand, all future brands failed miserably there.) Here's why you would need an energy architect session. It has the answer and will know how to get the energy in your favor.
People around the world have benefitted from Aaron's timely and effective advice on spaces. Businesses have turned around in a week, health has gotten better, marriages have been saved, thanks to the energy architect session.
The energy architect sessions can be done for any property that you live in, rent, are about to buy, work out of. These include:
Homes

Factories

Corporate spaces

Shopping Malls

Properties

Land

Buildings

Clubs

Spas

Clinics
There are three kinds of sessions:
General scanning: Get an energy reading of your space to know the blockage in your success and progress at work and in your personal life.

Cleansing: Aaron can vacuum clean all the unwanted energy with his intuitive abilities, healing power and make it optimal for you.

Solution: Aaron can 'work' on your space and give you customized solutions to ensure the changes made are beneficial.
Benefits of having an energy healing specialist
There are subtle forces at play in a space - things we cannot see, or impressions stored in there. Even if it is a new building and the vastu consultant has done his / her job perfectly well. You'd still need an energy scan to see if this is the best for you. It's like getting an ultra-sensitive X-ray machine to give you an in-depth reading of a possible problem. It's just that the doctor, in this case, is called the architect. So,
Understand how can a space support you in your journey

Ensure you're not making investment-rich decisions (like buying land or property) which are not good for you

Gain insights into the reasons why the property you bought with so much love and money is causing you pain. Find out why certain obstacles are recurring in your life and get the solutions for each of them.

Allow Aaron to do what he is best at- scanning, cleansing and transforming the space to receive the maximum benefit in your life.
It would be entirely dependent on the size and location of the property as well as the service selected (general scanning, cleansing, solution).
The sessions are for two durations: 90 minutes and 3 hours. You could choose either session, depending on your requirement.
Pre-appointment work: Which areas of life would you like to improve and progress in? Please choose any 3 areas from the list given below. The Energy Architect session will give you the answers you seek.
House
Health, Wealth – (Prosperity), Relationship (family, children, couple), Romance & love life, Career, Emotional & mental health – (Peace), Protection (from unwanted energies & negativity), Energy of the house, Future of the house
Business & Commercial Spaces
Money flow, Employee relationships, Smooth business flow (overall energy flow), Protection (From negative and unwanted energies), Success of business (future), Emotional & mental health – (Peace)

Energy healing specialist: FAQs
Can I get a reading done remotely?
Yes. Aaron has done extensive reading of properties in more than 11 countries across the globe. Aaron would prefer to travel to your location if he's in the country at the time of request.

Is it compulsory to get a cleansing session done if I have gotten a scan already on my property?
Do you opt-in for treatment once you get a diagnosis done? Or would you prefer to get the tests done, and do nothing about it? The choice is entirely yours. However, it is recommended to get the cleansing solutions done after a reading. Aaron has received many frantic calls after clients ignored the cleansing segment, wishing they had paid heed. We don't want to see you there.
Once the cleaning solutions have been done, do I need to get my place scanned again? And are the effects permanent?
Your place is safe now, relax. The cleansing solutions sessions have taken care of everything to the optimal. Don't you return your clothes for dry cleaning once you've worn them? These sessions are like 'dry cleaning' your spaces. Just as a clean garment could get dirty, a space could too. Regular maintenance, in the form of sessions, is always useful.

Do I have to physically be present during the reading?
No. However, your permission is required.
Do I need an energy architect if I'm living in a rented house or purchased a second-hand property?
Let's swap places for a minute. What if you gave up your house as part of a distress sale? Imagine the new owner staying in that space. It could be unintentional, but the subtle energies stay behind, influencing people. So yes! Please get rid of all the unwanted energies of the previous owner. It's going to be good for you, more than you know.

Can I gift this session to someone?
Who doesn't like gifts? Of course, you can. (May I take down the details, please.)
Can I book more than one energy architect session for one day?
Of course, you can. You can eat the starters, every item on the main course anytime you like. After all, you are your own boss. Dare someone stop you! 
All these years I had seen and understood the importance of directional alignment with the nature, which is our traditional vaastu-shastra. It is definitely jaw dropping to experience and understand how important it is to align our energy with the energy of our house!
The energies in the house intuitively felt and narrated by Aaron was magical and very precise!! The simple remedies bringing-in the positive shift in the atmosphere of the house is startling.
We have felt the benefits of "energy architecture" in various aspects of life!
I definitely see a positive shift
-> In the relationships at home!
-> In the thought process!
Thank you Aaron!
Abhijith Hegde

Entrepreneur
Recently, my wife and I invited him to do an energy architect session for our home and workplace where his sense of approach towards the subject was outstanding. He was able to pinpoint the issues relating to me, my business and my family. He also suggested the necessary remedies which were needed.
That was indeed a breakthrough session. We implemented the changes which Aaron recommended and they did bring about a favourable change in our family and business. I really appreciate Aaron's dedication towards his work and I vouch that he won't let anyone down with his work.
Naveen Karia

Entrepreneur
Around three years ago, Aaron had intuitively suggested some changes in the arrangement of the furniture in my house. I made those changes and also gave away an old heavy wall unit. His guidance was purely intuitive and after following his advice, the energy of my home has lightened, freed up stagnant energies in my life too. Thanks Aaron for doing wonderful readings as an energy architect.